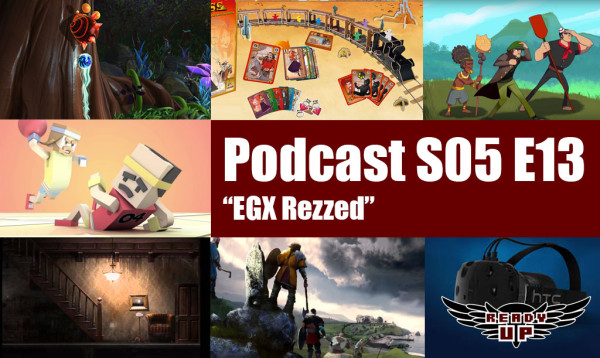 Susan, Dean, Verity and special guest Rob quested through Tobacco Dock, avoiding the rainy patches and diving into the deepest depths of the rooms to have a look at all of the games on offer. We sat down and talked through some of our highlights of the show.
Also, check out the previous bonus episode where Dean and Susan spoke about the Norwich Gaming Festival.
Here's a time-coded breakdown of the chatter with little bits of info about each game and discussion point.
0.01.10 Introduction to EGX, and the perils of the team as they navigated the venue.
0.02.07 Zubmariner, the expansion to Sunless Sea (aka Zunlezz Zea), was announced.
0.03.20 The Mirror's Edge: Catalyst talk spoke about the game engaging with core political issues of the day, and the game as a reimagining of the original. Faith's body is now her only weapon, with a heavy focus on martial arts tied in to free-running to keep the flow going through the game.
0.05.00 Planet Coaster brings the careful management of Rollercoaster Tycoon and updates it for the Minecraft generation, encouraging crazy builds and epic parks with clever crowd physics.
0.08.30 Dean declares #Superwarehouse, the official EGX Rezzed/Vice Gaming/Joypad afterparty, as the 'Dark Souls' of afterparties. Luckily, he survived the depths of Shoreditch.
0.10.46 While Dean was adventuring, back at the house Verity and Susan defused some bombs and exploded others in Keep Talking and Nobody Explodes.
0.12.15 The team played a few board games while at Rezzed. First up was Celestia, which left the team unimpressed and stranded on islands.
0.15.15 Everyone enjoyed a great round of Colt Express. Well, Verity enjoyed it because she came away the richest bandit who ever lived. Susan enjoyed it because she shot Dean three times. Dean is disappointed he got shot by Susan, and also by the prowling marshall.
0.16.45 Dice City resonates with Dean as the 'loner' board gamer, but everyone else found it an antisocial experience. Although given time, perhaps we would have grown to love it.
0.20.22 We! Are! V! R! The HTC Vive experience leaves Rob and Dean weeping with joy at the beauty of the holodeck. After the magic of Vive, Rez on Playstation VR fails to impress, but the clever experiences of being a telekinetic person on Esper2 proved to be good fun. Meanwhile, Susan and Verity watched their gang beasts get run over by trucks over and over again in Gang Beasts VR, and Verity got in a war with a 9-year-old child.
0.35.35 Over to the Leftfield Collection, the indiest of all of the indie games, aka the indie game festival's indie offshoot. The team had great fun with Knife to Meet You, the sassiest knife game you'll ever play. With 100% real knives!
0.37.48 Verity demonstrated an impressive level of geography knowledge in The World is Flat.
0.38.38 Dean and Susan tried to train a monster in Electric Lullaby, an interesting game exploring ideas of consciousness/unconsciousness through a kid falling asleep and waking up to read a diary of what a monster has done while he was slumbering.
0.41.07 Point-and-click games make a good display, the standout one for Dean being Square Enix Collective's Goetia, a gothic adventure where you play a spirit exploring her childhood home and solving its mysteries several decades after her own death. Dean will learn how to say the title of the game eventually.
0.43.30 Dean was also impressed by Tokyo Dark, a neo-noir game with visual novel tendencies.
0.44.00 Dean and Verity had a chat with Alasdair Beckett-King, developer of Nelly Cootalot: The Fowl Fleet, a point-and-click game with pirates and waterfowl. The rest of the team found them by the glowing light of two ginger manes combined.
0.45.36 Susan finally had a go on Wailing Heights (and met Outsider Games in person, guests on the podcast a few episodes ago). She ended up stealing a phone from a hipster vampire to solve a zombie puzzle.
0.48.55 Susan got stuck playing Climberia Pirates on iOS while Verity had a chat with the developer about choosing a method of payment for the game.
0.50.54 Snake Pass looked interesting, unfortunately nobody got to play it.
0.51.45 The white ninja took another victim in Black and White Bushido, with Susan getting thrashed at the dev's own game.
0.53.36 Verity pleased the gods but murdered everybody else in Expeditions: Vikings.
0.55.45 But then the sharks had their revenge on Verity in Man O' War: Corsair!
0.57.50 Stikbold! saw the team pummelling each other with balls and sausages in this fun, chaotic, Scandinavian-themed dodgeball game.
59.55 Dean enjoyed the light puzzle elements of Lumo, having fun befriending boxes and using them as stepping-stones to victory.
1.01.26 Dean did suspect things with sheep in Renowned Explorers, all in the quest to earn glory on the battlefield.
1.04.19 Meanwhile, Verity tried out Amazon's new delivery service in Unbox. Not really, she just turned out to be rubbish at platformers.
1.05.58 But even when teamed up with Susan, she didn't fare any better in Mekazoo. Also, Verity and Susan introduce 'armadillo' as a verb and the team demonstrate the Britishness of this podcast.
Subscribe using iTunes, Stitcher or our Podcast RSS Feed.
Ready Up Podcast theme music courtesy of Tommy Tallarico.
Podcast: Play in new window | Download