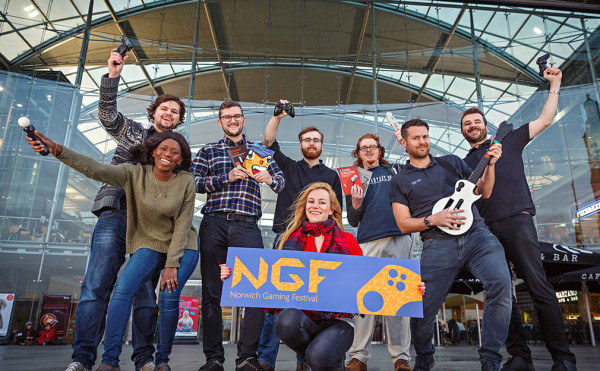 Norwich Games Festival has just wrapped up and this year was even bigger than the last with the addition of a marquee (the Gaming Village) to bolster the Forum's already sprawling floor space, which was packed with indie devs from near and far. Inside the village could be found sponsors Hughes and Game, an American sweetshop and a crafting space for kids, which added to the festival's incredibly positive, welcoming and family friendly demeanour. Also on hand to provide amusement for the crowds was the Vibe City street band performing a mixture of jazz standards and classic videogame tunes (it's not everyday you hear Waltz de Chocobo being belted out on the tuba in the streets of Norwich) and Ironheads with their unique twist on medieval sword play via Johan Sebastian Joust (knock your opponent's horns off their helmet to become the true dovahkiin). There was also a massive gaming pub quiz which was a ton of fun and raised loads for gaming charity Special Effect.
it's not everyday you hear Waltz de Chocobo being belted out on the tuba in the streets of Norwich
Dean, in his capacity as PhD student, also organised a day of introductory games studies talks featuring UEA students covering topics such as narrative, representation, preservation, cultural value and phenomenology. The talks will be available as videos soon and we'll post them on the site when they are.
Susan and Dean prowled the show floor talking to devs, playing games and eating cakes (it's a tough job but someone has to do it). And we present below our findings in podcast form for your listening pleasure. Also don't forget to listen to this week's podcast where we are joined by special guests Ghost Town Games who made the delightful couch-coop cook-em-up Overcooked (think Cooking Mama by way of Bomberman but with more fires).

Here's a time coded breakdown of the chatter with a little bit of info about each thing. We kick off with a general discussion of the festival including brass bands, knightly duelling, quiz time events and our favourite industry talks.
7mins 50secs: We admit how team 'The Scholars of the First Quiz 64' did in the videogame pub quiz.
11mins: We discuss our favourite developer talks including those from the producer at Chucklefish on how they built their studio from the ground up; Creative Assembly's Catherine Woolley, who shone a light on the nebulous role of 'game designer'; and henry Hoffman from Fiddlesticks, developers of the award winning puzzle platformer Hue, discusses how the design and aesthetics of the game has evolved over time.
20mins 40secs: History Mystery is a live escape the room game set in the historical auspices of Norwich's Guild Hall, where you have to rescue a bumbling historian who has got himself locked in a vault.
25mins: King's Court is a unique twist on traditional games like chess or checkers that's been designed by Daniel Clackson who is currently seeking funding through Kickstarter. If you like clever abstract games its worth checking out.
30mins 13secs: Pete Chinkin is a Norwich board gaming institution. Founding member of the active Norwich Board Gamers (NoBoG), organiser of the Norwich board game playtest meet up on the last Sunday of every month at Athena Games, and designer of space strategy card game M101, which will hopefully be coming to a galaxy near yours in the not too distant future.
35mins 49secs: Perpetual Night by Studio Genkan is a puzzle platformer currently on Kickstarter, but I couldn't play it because of those pesky kids!
38mins 45secs: Gamerbake are bringing some much needed positivity to videogames in the form of pixelated confectionery.
41mins 5secs: Super Arc Light by No Code Games is a frantic arcade shoot 'em up mixing retro stylings with modern design sensibilities.
45mins 7secs: Surefooting is a cute endless runner with some serious experimental AI procedural generation algorithms running under the hood courtesy of Dr Tommy Thompson at Tableflip Games.
50mins: Factotum 90 by TACS Games is a clever puzzle game with a 90s grungy video aesthetic and is currently going through Greenlight. The book Factotum that Dean couldn't remember the author of is by Bukowski incidentally.
54mins 20secs: Discstorm by Xmpt Games is a fast paced arena brawler featuring Frisbees and a ton of game modes.
58mins: 10 Second Ninja by Four Circle Interactive is really tight time attack puzzle platformer that's all about pure, brutal technique.
1hr 1min 35secs: The Last Word is still a bit of a prototype being developed at East Anglian games hub Shark Infested Custard, but is showing loads of promise and plays with text in a really innovative way.
1hr 7mins: Nome by Outlandish Games is also in an early prototype phase featuring a nomadic character who has a growing resonance with its environment
1hr 30mins: We briefly discuss our favourite game of the show: Overcooked by Ghost Town Games. You can hear more about this on our latest podcast where we have the developers on as guests.
Subscribe using iTunes, Stitcher or our Podcast RSS Feed.
Ready Up Podcast theme music courtesy of Tommy Tallarico.
[Disclosure: Due to the talks program he set up, Dean Bowman had a minor involvement with the organisation of the event]
Podcast: Play in new window | Download